What the Pitta!
What the Pitta is a trendy vegan fast food joint serving delicious vegan doner kebabs, falafel wraps, fries and vegan desserts!
Hygge Pygge
Hygge Pygge is an independently owned specialty coffee and all-day brunch café that started with the humble aim of bringing community together through food, music, art, yoga, classes for kids and more.
Purezza
Purezza is UK's first vegan pizzeria, serving plant-based versions of classic Italian dishes. Their menu consists of cheeses that they've spent years developing with cruelty free ingredients and pizza dough with a twist.
Lan Kwai Fong
Named after the popular going out area in Hong Kong, Lan Kwai Fong serves delicious dim sum, cocktails, steamed bao buns and you can also get stuck into a free game of digital beer pong on London's first digital pong machine.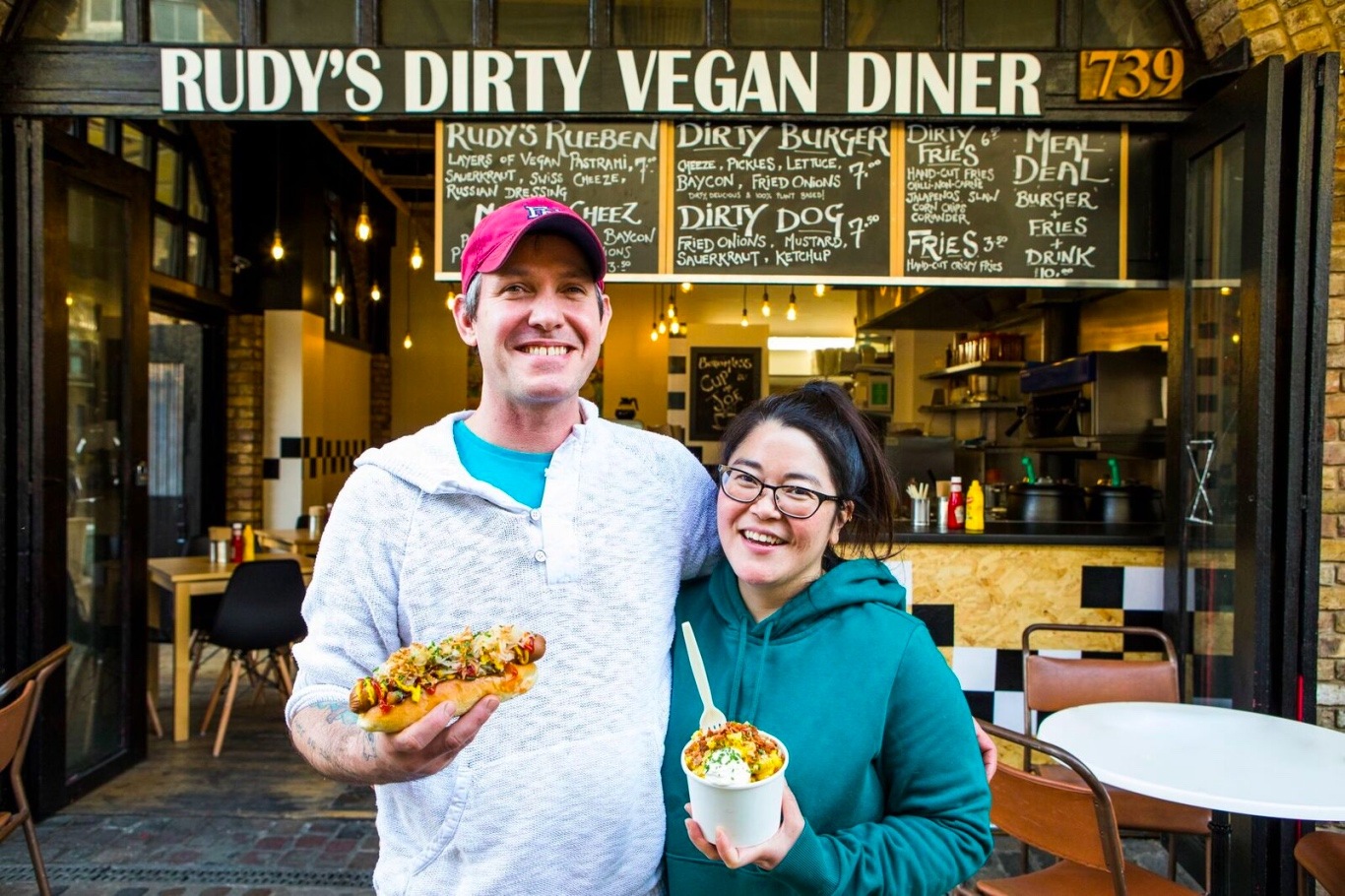 Rudy's Dirty Vegan Diner
Tucked away in the west of Camden Market – Rudy's amasses quite a crowd on Sunday afternoons. They serve up mouth-watering American comfort foods, vegan style. You'll spot classic Americana dishes ranging from The Dirty Burger to the Mac 'n' Cheez.
Guy Gold Treatment Rooms
Guy Gold and his associates are new to Camden, in a cosy and intimate space tucked away just off Camden High Street that operates as a little coffee bar alongside their osteopathic treatment rooms.
Yolk Breaker
Egg buns have achieved cult-like status across America's West Coast, and now, they have arrived in London. Starting as a pop-up in various markets across London, Yolk Breaker has officially opened their permanent base at Stables Market.
Cubé Café
Situated just outside of the Camden Market, Cubé Café offers a delicious selection of coffees and teas, homemade cakes and Japanese food.
Bubble Mania
A market trader selling beautiful looking and delicious tasting waffle desserts with all the ingredients you could ever dream of.
Naked Dough
Naked Dough launched the UK's first Cookie Dough Café as a pop-up in 2017 and opened in Camden this summer. Alongside their ludicrously moorish (and utterly Instagrammable) egg-free raw Cookie Dough, Naked Dough offers Dough Milk, Dough Freaks, Ice Cream and more. Their permanent flavours included the ever-popular Unicorn food, Nak-Ed Sheeran and totally vegan Buttery Biscuit Base.
Best Newcomer