The Jazz Café
The Jazz Café is an award winning live venue with a live music rota that leans towards the jazz and eclectic side of things. It's an intimate venue for music across a variety of genres – from the coolest things in live electronic to soulful jazzy beats.
The Roundhouse
The Roundhouse is an incredible performing arts and concert venue situated at the Grade 2 listed former railway engine shed, where some of the biggest names in music, theatre, circus and spoken word take to the stage every day. It doubles as a hub of inspiration where artists and emerging talent create extraordinary work and where young people can grow creatively as individuals.
Koko
Koko began life as a theatre and hosted the likes of Charlie Chaplin. Reincarnated into a music venue, it found a place at the heart of Punk and played host to musical legends such as the Sex Pistols. In 1982, the New Romantic scene had found its home. Since reopening in 2005, many musical legends have graced KOKO's stage such as Noel Gallagher and Coldplay.
The Underworld
The Underworld has become the heart of the alternative music scene in England and has played host to concerts by mega names such as Radiohead, Foo Fighters, The Darkness and Fall Out Boy.
The Monarch
Camden Monarch dates back to the 1980s, when Camden Town began hosting gigs and adopting a bohemian sensibility. The venue has hosted many bands that have since gone on to be highly successful, for example, Coldplay and Oasis.
The Good Mixer
Built on a bomb site in the 1950s, its name is derived from the cement mixer that was absent-mindedly trapped in the pub during its construction. It gained notoriety as the drinking pub of choice for a long list of bands throughout the 90s Brit pop years. Today, the pub maintains its laid back good time vibes.
Electric Ballroom
The Electric Ballroom is an iconic music venue at the heart of Camden Town's bustling community and has been for 80 years. In past decades, artists such as Madness, The Clash, Blur and the Smiths have drawn huge crowds of loving visitors to the venue.
Camden Assembly
Camden Assembly is an established indie haunt that plays host to popular and budding talent and has regular club nights. Split into 3 floors, everyone's welcome at Camden Assembly – whether you're visiting them for a gig or club night or just looking to grab a pint and burger.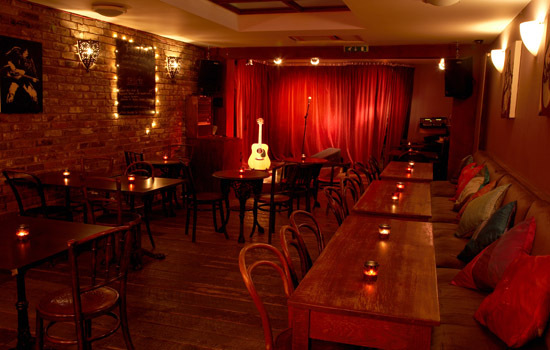 Green Note
Our 'Music Venue' winner last year! Green Note is a unique and intimate exposed brick venue for roots, world and acoustic music and a vegetarian café menu.
Dingwall's
Dingwall's is a live music hot spot since 1973, hosting local/ touring bands and comedy nights within Camden Market. It's had many bands grace its stage over the years including emerging acts and established international superstars such as the Foo Fighters, The Strokes and Mumford and Sons.
Music Venue